Prince Adam is Belle's love interest.
Series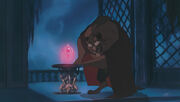 In the past, Adam was spoiled and selfish, when a witch but disguised as an old woman came and knocked on the castle's door for protection from the cold. Adam refuses and was cursed and transformed into a beast by the woman. She also cursed the whole castle. The spell will be broken if he could learn to love a woman and earn her love in return by the time the last petal of the rose the witch gave fell. But if he failed, he would remain a beast forever.
Other things coming soon...
Trivia
The name "Adam" is of Hebrew origin and means "earth".
"Adam" is derived from a Hebrew word, "adama" which means "man".
The name "Adam" is confirmed to be incorrect by Glen Keane, the Beast's animator, and by the D23 Official Website.  Glen Keane said 'he is always the Beast to us'.