Princess Cinderella is a fictional character created by Walt Disney pictures. She is one of the Disney Princesses.
Movie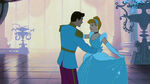 Cinderella was the much loved daughter of a widowed aristocrat. Deciding his daughter needed a mother's love, he married Lady Tremaine, a cruel lady who had
two daughters from her previous marriage, Anastasia and Drizella. After Cinderella's father dies, Lady Tremaine and her daughters started to mistreat Cinderella, making her attend to their every needs. In the house, she was forced to clean the house, feed the bossy mean ladies and she always had a hard time. But she does have kind mice friends who always seems to cheer her up. Later, her dreams come true by meeting a fairy godmother who grants her wishes.
Appearance
She has fair skin, medium-length strawberry-blonde hair, and blue eyes.
Pajama
Coming soon...
Maid dress
In her house outfit, rags, she wears rags which are grey-green and messy and torn. Her hair is tied with a ribbon.
Pre-Ball Gown
Coming soon...
Princess Gown
Cinderella's hair is in a bun and she has a hair band. She wears a blue gown with a dark blue top and with pale blue bottoms. Her sleeves are lacey and separate from the dress and she wears blue glass slippers.
Personalities
Cinderella is kind to all, especially her mice friends, Jaq and Gus. She has faith that if you keep on believing, your wish will come true. With help from her fairy godmother, she gets a chance to live her dreams.
Description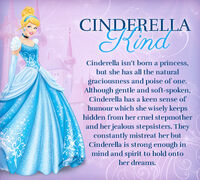 Cinderella isn't born a princess, but she has all the natural graciousness and poise of one. Although gentle and soft-spoken, Cinderella has a keen sense of humour which she wisely keeps hidden from her cruel stepmother and her jealous stepsisters. They constantly mistreat her but Cinderella is strong enough in mind and spirit to hold onto her dreams.
Movies
Coming Soon...
Coming Soon...
Coming Soon...
Trivia
The name "Cinderella" is of French origin. It means "little ashes".
She is the only princess who has a permanent nickname.
Cinderella's name is derived from "Cendrillon".
Cinderella's princess personality is "Kind".
Cinderella's web personalities are hopeful, hard-working.