Facilier
 is a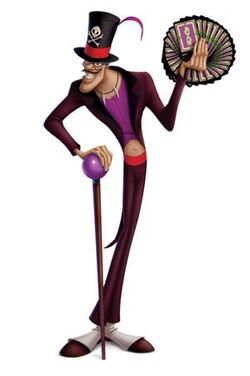 n antagonist introduced in the movie, 
The Princess and the Frog
. He is the main antagonist and the person who turned 
Naveen
 into a frog by the help of his friends on the other side which consist of 
the Shadow Demons
.
Appearance
He wears a hat which is designed by a skull on its front. His face and chin is long. His lips are thick and he had a moustache. The colour of his eyes are violet-ish. He wore a dark purple coat and trousers.He also wore a Sabre teeth necklace and his shirt is purple in colour. His shoes are white and brown in colour. He is a very tall man and he always walk using his stick.