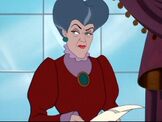 Lady Tremaine is the cruel stepmother of Cinderella and the mother of Anastasia and Drizella.
Appearance
coming soon...
Personality
coming soon...
Series
coming soon...
Trivia
The name "Tremaine" is a variant of Celtic name "Tremain". It means "town built with stone".
Her hair is similar to Rowena's in the movie Barbie and the 12 Dancing Princesses.