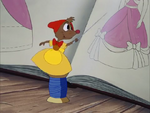 Mary is a mouse and Jaq's girlfriend.
Apperance
Mary has dark brown fur and black eyes. She wears a yellow and orange dress with a red ribbon on it. She also wears a red hat on her head.
Trivia
The name "Mary" is of Latin origin and means "star of the sea".