Princess Melody is Ariel and Eric's 12-year old daughter.
Movies
Melody secretly sneaked out to go to the ocean and disobeys her
mother
. She likes to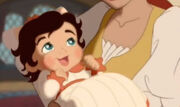 go to the ocean to pick up shells. She later meets
Morgana
, who made her a mermaid. She then later finds out that King Triton is her grandfather.
Personality
Coming Soon...
Appearance
Melody bears great resemblances to Ariel, despite the colours. Her hair is black and has a large and deep bang and she has blue eyes. Her skin is slightly tanned and wears a white camisole with a green bow and frilly white knee-length pantalettes.
Trivia
The name "Melody" is of Greek origin and means "music", "song".
It's possible that Melody inherited Ariel's singing voice.