Princess Pocahontas is one of the Disney Princesses.
Movie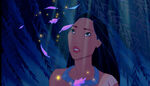 Coming soon...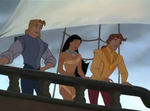 Appearance
Pocahontas has black hair, brown eyes, and copper skin with red lips. She has a Native American appearance.
Princess gown
She wears a tan-colored one-shouldered suede dress decorated with feather and beads. She wears feathery earrings with turquoise beads at the end, and a gold necklace studded turquoises. Her knee-length boots are also made from suede. She wears a red tattoo on her right arm and the dark purple paints on her cheeks.
Personalities
Pocahontas loves nature, and she spends her time exploring the land.
Descriptions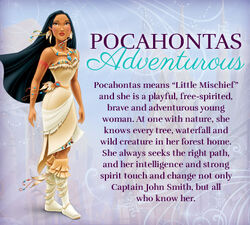 Pocahontas means "Little Mischief" and she is a playful, free-spirited, brave and adventurous young woman. At one with nature, she knows every tree, waterfall and wild creature in her forest home. She always seeks the right path, and her intelligence and strong spirit touch and change not only captain John Smith, but all who know her.
Trivia
The name "Pocahontas" is of Native American Indian origin and means "playful".
Pocahontas' princess personality is "Adventurous".
She has Native American accent.
Pocahontas' web personalities are adventurous, strong.

Apparently, her web personality matches her princess personality also.
Mulan also has matched web and princess personality.