Princess Tiana is a fictional character and the main protagonist created by John Musker and Ron Clements in the The Princess and the Frog. Her love interest is Naveen.
Appearance
Tiana has a black hair, a dark skin complexion, and brown eyes with pink makeup. She has African-American apperance.
Princess Gown
Her gown is a layered strapless, sleeveless green dress that takes after a green lotus, with attached a green lotus on it. She also wears a leaf-shaped tiara, a dewdrop-shaped diamond necklace and pale green opera gloves and matching shoes.
Personalities
She is very patient and a sweet girl. She always cheers people up. Besides that, she is really a determined person, she would never give up easily to achieve what she wants. However, she is also a little stubborn.
Description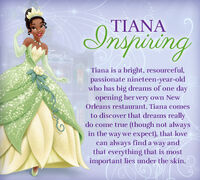 Tiana is a bright, resourceful, passionate nineteen-year-old who has big dreams of one day opening her very own New Orleans restaurant. Tiana comes to discover that dreams really do come true (though not always in the way we expect), that love can always find a way and that everything that is most important lies under the skin.
Movies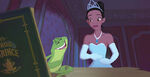 Her father died but she still remembers some of her father's words. Her father used to make gumbo, which is a kind of soup which she loves very much. When she is mature,
she works as a waiter in a restaurant. Everybody loves her work, she is really hardworking in doing her work. After that, she met a prince named
Naveen
, who is a playboy who likes to flirt with girls. Her friend, Charlotte is in love with Naveen and she actually dances with the fake prince while the real one had turned into a frog. In order to break the spell, the prince has to kiss a princess and when he saw Tiana who is wearing a tiara, he asked her to kiss him but it turned to be wrong. Both of them turned into a frog because Tiana isn't a princess so it turned her backwards. In the end, she married Naveen.
Trivia
The name "Tiana" is of Russian, Latin and English origin and means "follower of Christ".
Tiana's princess personality is "Inspiring".
Tiana is the first dark-skinned princess of Disney.
Tiana's web personalities are ambitious, determined.